Shiro (白, Shiro) is the form achieved by Kyousuke Kagami after performing a Shikigami Possession using Hakutenmaru.
Appearance
Edit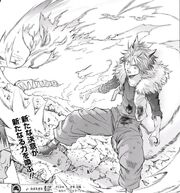 Shiro has white hair and has the characteristics of a fox such as ears and tails and wears traditional shikigami user clothes. He is also much older than his user Kyosuke.
The second form of Shiro still has the characteristics of his first form except that he wears some modern clothes which consist of a full sleeved T-shirt,a pair of jeans and a fur vest and has the similar age of his user Kyosuke.
Personality
Edit
Shiro is considered strong and brave however he is considered immature because unlike Kyosuke who doesn't like to peek on women's underwear, Shiro is perverted since he has Haku's pervert side and has his own personality. He also likes fighting and thinks the opponents are losers,He sometimes get attracted to Mako Miyoshi though his original owner Kyosuke considers her as a "big sister".
The second version of Shiro unlike his previous version is considered serious, mature and cares for others which was the reason why he keeps on fighting and he keeps the personality of his owner Kyosuke.
Power & Abilities
Edit
Demon Spirit Sword "Kujikagura" (霊刀羅刹 "九字神楽", Reitō Rasetsu "Kujikagura")
Demon Spirit Sword "Tenrai no Homura" (霊刀羅刹 "天雷ノ葬", Reitō Rasetsu "Tenrai no Homura")